Students of the Naale Elite Academy who will be joining the Ayanot Youth Village this coming school year, will have a chance to study Earth Sciences as part of a special program in partnership with the prestigious Weizmann Institute of Science. 
For almost 30 years, the Naale Elite Academy has been providing Jewish teens from across the globe with the opportunity to attend high school in Israel. 
This fully funded program operates in a broad range of host schools all over Israel, each with its own style and orientation. Naale participants integrate with Israeli and international students, developing meaningful connections, as they master Hebrew and complete their high-school matriculation studies.  The dedicated staff at Naale are committed to supporting students' educational and emotional growth, enabling them to enjoy the experience of a lifetime while achieving academic excellence in core and extracurricular subjects.  
We were delighted with the idea of exposing Naale students to a high-level science program at the Weizmann Institute," said Dalit Ravid Hameiri, Naale's educational director. "Beyond the personal enrichment that such a program provides, it is an exciting opportunity for students contemplating a career in the sciences, especially environmental studies."
In this elective multi-year program for outstanding students, participants attend classes and take part in eye-opening educational tours. Part of the learning takes place via an e- platform which enables students to progress at their own pace, while the group field outings put them in close contact with the environment they are learning about, and includes fun trips to Israel's mountains, water sources, deserts and beaches. 
With over three decades of experience in education, Ravid Hameiri is an eager advocate of experiential learning and is always open to expanding opportunities for Naale students. "We wanted to add something new to our curriculum, and to provide Naale students with this golden opportunity to rub shoulders with members of Israel's scientific community at an early stage". The Earth Studies program provides the extra benefit of giving Naale participants the opportunity to connect with students from all over Israel, she added. 
Out of the 20 years that Ron Ben Shalom has been teaching Earth Sciences at the Weizmann Institute, he's devoted a decade to serving as director of the National Earth Sciences Program at the Davidson Institute, where he interacts directly with high school students. "One of the aims of our program is to present the foundations of science in a fun, exciting and hands-on way," Ben Shalom explained.  "At the beginning of the program, we take the students outside and encourage them to explore and ask questions," he said. 
Ben Shalom believes that children learn best when they are self-motivated. "Learning is our natural instinct and that instinct is aroused by curiosity. Our mission as teachers is to refrain from interfering in that process. We assist and support and try not to stymie the natural learning process."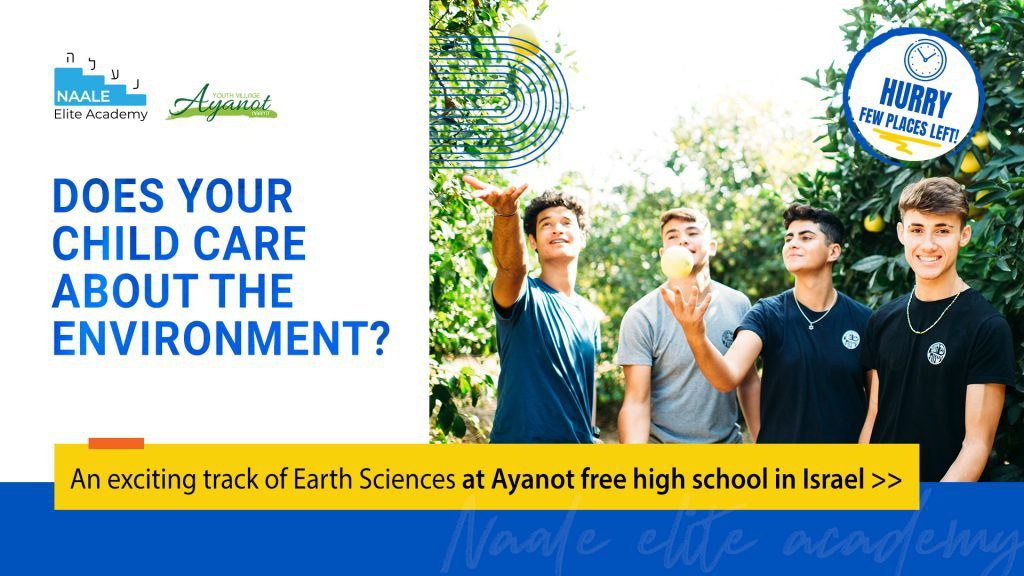 Naale staff at the Ayanot Youth Village, located in the center of the country, had long sought a way of integrating Naale students into one of the many science programs offered through the Davidson Institute (the educational arm of the Weizmann Institute) — and the Earth Sciences Program was seen as a particularly suitable.  "Ayanot is an agricultural youth village, where the students have a responsibility to devote three hours a week to village chores," said Racheli Peretz, Naale coordinator at Ayanot. "We promote sustainability; so, for example, we don't use any disposable dishes, and we have a gray water recycling system. Given our land ethic, Earth Sciences seemed the perfect fit for the Naale students who are interested in environmentalism and who, from my experience, welcome an academic challenge."
Of the 26 institutions that absorb Naale students, Ayanot is one of the smaller schools, or as Peretz describes it, "a boutique school where everything is individualized, and where everyone knows everyone else." The community framework, together with the country setting, contribute to a close-knit atmosphere. It's only natural, therefore, that the counselors for the Israeli kids also know the Naale kids by name. 
Out of a student body of over 300, the vast majority dorm in the village, putting the Naale students on an even footing with their Israeli counterparts. According to Peretz, whenever there is an organized event or even just a few kids who set up a kumzitz (group bonfire), you'll find Naale students at the center of the action. "They stand out for their interest in culture, art, sports, music – and now, the ones who are scientifically inclined will be able to get a head start with the Earth Sciences program."
Ben Shalom is looking forward to working with the Naale ninth-graders, who will be participating in preparatory meetings for the Earth Sciences program. "To me, it seems so right that Naale students, who have come on their own to embrace the Land and make it their home, should be involved in studying the land and the science around it," he said.
For more information please contact your Naale Regional Manager.